2018 BMW Summer School
July 29 – August 3, 2018, Munich, Bavaria
Mobility is currently dominated by a number of powerful trends. Urbanization and de-carbonization are calling for new concepts. Autonomous driving, electromobility, car sharing, and digital information and communication technologies have begun to fundamentally change the landscape. Here, artificial intelligence is finding some exciting and challenging application areas. Beyond industrialization of state-of-the-art sensor technologies, advances in machine learning and computer vision are behind all but most breakthroughs in autonomous driving.
The BMW Summer School is encouraging multi-disciplinary discussion and hence is calling for contributions from all fields – from computer science to electrical engineering, from economics to legal, from sociology to psychology and philosophy.
The format of the 6th french-german summer school comprises keynote presentations from executive-level speakers, ideation workshops, technical expert presentations from industry and academia, moderated panel discussions and PhD poster presentations.

German-French Academy for the Industry of the Future

German-French Academy for the Industry of the Future

German-French Academy for the Industry of the Future

German-French Academy for the Industry of the Future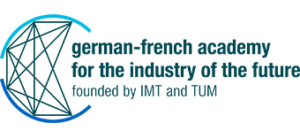 German-French Academy for the Industry of the Future