The German-French Academy for the Industry of the Future is a strategic vehicle to promote close collaboration between leading European research institutions and industrial companies. It was founded by the French Institut Mines-Télécom (IMT) and the German Technical University of Munich (TUM). Focused on joint research, education and innovation, the Academy's mission is to master the challenges accompanying the increasing digitalization of industry processes.
Creating strong ties between academia and industry
The Academy was inspired by IMT and TUM's shared vision of excellence in research, education and innovation across Europe. Reaching beyond IMT and TUM, this European backbone is now looking to network with other academic and industrial partners in both countries. The Academy serves as a platform for high-level science and teaching communities, paving the way for joint research projects focused on Industry 4.0. It also promotes close collaboration with partners in industry, especially with companies that have strong collaborative ties between Germany and France.
German-French Digital Conference

After the conference held by President Emmanuel Macron and Chancellor Angela Merkel, the idea of the Academy was created.

2015

2016

2017 / 2018

A key actor of the french-german cooperation in AI

The Academy joins the french-german network for AI in the framework of the renewed Aachen Treaty.

2020

Soon, the Academy will be extended to other academic and industrial partners of both countries.

near future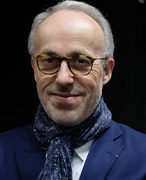 The digitalization of economy is about opportunities, disruptions, and risks. It calls for trespassing new technological frontiers, addressing new skills, and imagining new pathways. TUM and IMT face these challenges by jumpstarting a broader academic effort. Building the Industry of the Future is also about crafting the University of the Future.