German-French Academy for the Industry of the Future at VivaTech 2019
May 16 – 18, Paris Expo Porte de Versailles, stand H44
VivaTechnology is a major world hub for start-ups and innovation. This year, from May 16 through 18, it will again attract numerous startup visionaries, leaders and talents to explore the latest innovation insights, breakthroughs and products. The German-French Academy for the Industry of the Future is participating in this year's event, co-hosting a new innovation space dedicated to academic collaboration, education and innovation uniting France and Germany.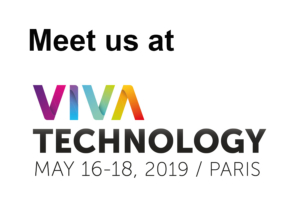 German-French Hub
The Academy's founding institutions, the German Technical University of Munich (TUM) and the French Institut Mines-Télécom (IMT), will present their know-how, activities and cooperative engagements at the Franco-German stand alongside several other stakeholders. By playing an active role in this joint booth, the Academy is fostering German-French relations. The aim of the joint stand (Espace Franco-Allemand pour l'Industrie du Futur / Deutsch-Französischer Hub – Industrie 4.0) is to encourage and develop sustainable cooperative initiatives among companies specialized in research, innovation and training focused on the industry of the future – also known as Industry 4.0. This bi-national platform will give visitors a state-of-the-art overview of disruptive solutions resulting from Franco-German academic research.
Highlights at stand H44
Disruptive solutions: Meet our startups!

You will have a chance to connect with luminaries from the following startups that built on TUM and IMT's ecosystem. These startups – alongside 24 other startups at the German-French Hub – represent technology breakthroughs that are powering the advancement of Industry 4.0, spanning areas such as artificial intelligence, cyber security, advanced manufacturing, mechatronics, drones, energy, mobility, etc.:

AI and data intensive research: Learn more about our joint research platform!

IMT's  TeraLab hosts research projects on real industrial data and is the enabler of the Academy's joint platform for Artificial Intelligence and data intensive research. It is enriched by installing TeraLab software in TUM's infrastructure, and by adding TUM's software and tools in TeraLab's infrastructure.

Research into Industry 4.0: Meet our experts!


The German-French Academy for the Industry of the Future will also demonstrate how it is enabling Industry 4.0 and smart factories through state-of-the-art Franco-German research into areas such as AI, cybersecurity, blockchain, advanced manufacturing and organizational management, flanked by its portfolio of bi-national innovation tools for companies.
German-French Academy for the Industry of the Future
The German-French Academy for the Industry of the Future promotes close collaboration between major European research institutions and industrial companies. It was founded by the French Institut Mines-Télécom (ITM) and the German Technical University of Munich (TUM) at the German-French Digital Conference in October 2015 under the patronage of the French and German governments. Focused on research, education and innovation, the Academy's mission is to meet the challenges associated with the increasing digitalization of industry.
Technical University of Munich (TUM)
The Technical University of Munich (TUM) is one of Europe's leading research universities, with around 550 professors, 42,000 students, and 10,000 academic and non-academic staff. Its focus areas are the engineering sciences, natural sciences, life sciences and medicine, combined with economic and social sciences. TUM acts as an entrepreneurial university that promotes talents and creates value for society. In that it profits from having strong partners in science and industry. It is represented worldwide with the TUM Asia campus in Singapore as well as offices in Beijing, Brussels, Cairo, Mumbai, San Francisco, and São Paulo. Nobel Prize winners and inventors such as Rudolf Diesel, Carl von Linde, and Rudolf Mößbauer have done research at TUM. In 2006 and 2012 it won recognition as a German "Excellence University." In international rankings, TUM regularly places among the best universities in Germany.
Institut Mines-Télécom (IMT)
Institut Mines-Télécom is a public institution dedicated to higher education and research for innovation in the fields of engineering and digital technology. Always tuned in to the economic world, it combines high academic and scientific legitimacy with close business relations and a unique positioning in 3 major transformations of the 21st century: Digital Affairs, Energy and Ecology, and Industry. Its training and research for innovation are conducted in the Mines and Télécom Graduate Schools under the supervision of the Minister for Industry and Electronic Communications, in two subsidiaries and in institutions that are associate partners or under contract. Institut Mines-Télécom is a founding member of the Industry of the Future Alliance. It has two Carnot labels for the quality of its research partnerships. Every year, around one hundred startup companies leave its incubators.